Our Commitment to Charity
2019 - The Worcestershire Way, for Emie
When Bella was born profoundly deaf, a bunch of her friends devised a sponsored walk covering 100 km along the River Severn to raise both awareness and funds for specialist care. The blisters were all worth it - thanks to huge generosity from more than 120 donators over £4k was raised. In May 2019 Bella welcomed a beautiful little sister, Emie, who shares her condition and deserves the same care and treatment. So we are off again, different route but the same challenge - and we need your support.
On Saturday 28th September we will be embarking on a new mission to raise funds for Emie just like we did for Bella last year - but with a new route, and some big hills! We will be tackling the 50 km Worcestershire Way. The home stretch will take us across the top of the Malvern Hills (I know, great idea for the last leg!) where we will be able to use the view to look back and marvel at the distance we've just covered.
Once again, there will be a catch - we are doing the walk with our own hearing impaired - so no chatting, no music - just the sound of our hearts pounding as we climb those hills!
https://www.justgiving.com/crowdfunding/gavyn-bache?utm_term=GadDkGaze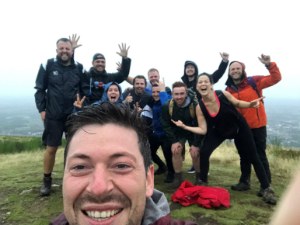 THEY DID IT! And raised £3165 for a great cause. Well done all involved!
2018 - The Severn Way, for Bella
On 25 August 2018, Gavyn organised a group of 15 brave people to embark on a hike along the River Severn to raise funds for the beautiful baby Bella Plunkett. Sadly, Bella was diagnosed with profound deafness at 5 weeks old and has bravely worn hearing aids since the age of 7 weeks. Fantastically, as she nears to the age of 1, she has been given the go-ahead to receive a bilateral cochlear implant by the wonderful health and support team that have been helping her. This means she will be able to pick up speech frequencies and ultimately learn to interact and communicate using more conventional means.

The challenge devised involved splitting into two teams, each covering a different 50 km section of The Severn Way to hike a total of 100 km, meeting in the middle for a well earned... shandy. However, there is a catch - To raise a bit of awareness, the hike was undertaken with everyone's hearing impaired.

Gavyn initially set a target of raising £3000, and at the time of writing has collected over £3420. If you would like to donate to this fabulous cause please take a look at https://www.justgiving.com/crowdfunding/gavyn-bache
2016 - 100 km TREKFEST - June
Well it's over! Both Gavyn and Ian completed the 100 km (62 mile) course non-stop in a time of 26 hours, taking some 150,000 steps and expending about 12,000 calories each! They were actually in 22nd and 23rd place out of some 75 entrants.
The team pictured below (L to R) consisted of Jaanis Janitis, Gavyn Bache, Liam Broomfield and Ian Matthews.
"It's relentless!" said Gavyn, acoustic engineer at Red Twin during the trek "and my feet hurt. The event was well organised and we were grateful for the efforts of all the marshalls, caterers and mountain rescue first aiders."
At the time of writing Gavyn has raised over £600 for his chosen charity (little Jack), and Ian has raised over £1500 for Cancer Research UK. "The pain in our legs and feet will be gone next week" said Ian Matthews, director at Red Twin, "and we are so grateful for the support of our charities. It really did keep us moving".
Gavyn and Ian are pictured below showing off their medals at the finish line. Well done.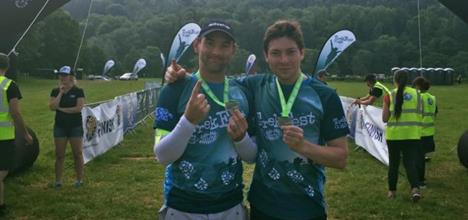 Having put our feet up fo a while, we are pleased to announce that this year our staff members Gavyn and Ian will be taking on the trekfest 100 km challenge in June. (www.trekfest.org.uk)
Both are raising money for their chosen charity and they would be very grateful for some added pressure not to quit.
Ian's JustGiving Page is
https://www.justgiving.com/fundraising/IanMatthews007
Gavyn's crowd funding page is
https://crowdfunding.justgiving.com/gav-bache
2013 - The Wimbledon Ride
The Wimbledon ride was a success with the team completing the challenge in 11 hrs and 30 minutes each expending over 8000 calories. "It was a dry ride, but a very hot ride" said Ian Matthews, director at Red Twin, "we couldn't have done it without our support car but we had great fun and were all stood on the hill to see Andy Murray win the final. What a result!".
At the time of writing the team have raised close to £1500 for Cancer Research UK, and appeared on Radio Wimbledon, BBC Radio Bristol, Radio 5Live, and Sky Sports News. The riders pictured below with the BBC's Helen Skelton are L to R, Lewis Fishlock (McEnroe), Ian Matthews (Agassi), Helen Skelton and Alex Murray (McEnroe aka Red Foo).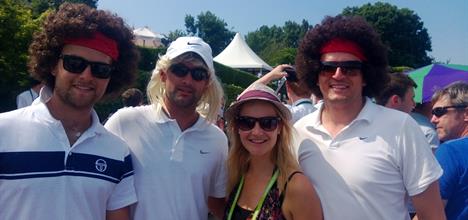 Please get behind us for this year's challenge to raise money for Cancer Research UK. Following the success of last year's efforts we are doing something very different this year. With help from British Tennis and CRUK, our director Ian Matthews together with two tennis coaches will be cycling to the Wimbledon tennis championships on 6th July. This is made more difficult by being in fancy dress and that none of the team involved have any cycling experience. Coincidentally the ride is 127 miles, and it is also the 127th Wimbledon finals. "We are all big tennis fans" said Ian Matthews, Director at Red Twin, "but cycling this far is well outside our comfort zones. We have learnt a lot in training already".
If you would like to support this bizarre challenge then please visit the justgiving sitewww.justgiving.com/wimbledonyoucannotbeserious. Alternatively you can donate using text giving by sending a text with the following "UCBS99 £10" to 70070 (you can alter the amount). You can keep up to date with training progress, and events on the day through the facebook page www.facebook.com/thewimbledonride.
2012 - The National Three Peaks Challenge
We are please to announce that the 3 peaks challenge was a success. The team completed the three climbs in a time of 23 hrs and 32 minutes. Ben Nevis was started at 07:45 on Saturday 18th August, Scafell was started at 18:35 the same day, and Snowdon was started at 02:48 on Sunday morning. The challenge finished with all members of the group reaching the car at 07:17 on Sunday morning.
At the time of writing there was over £2000 raised for Cancer Research UK, £230 for Childrens Hospice South West, and £655 for the Charlie Froud Foundation with money still pouring in. "What an amazing experience" said Ian Matthews, Director at Red Twin, "it was really tough, particularly walking and driving through the night. We are all so pleased to have done something so special as a team".
The team pictured below at the top of Snowdon includes L to R, Lee Welch (Roche), Alex Murray (Nokia), Mark Dalton (Interpet), Richard Wescott (Lapp Group), Ian Matthews (Red Twin) and Paul Cooper (Thrifty).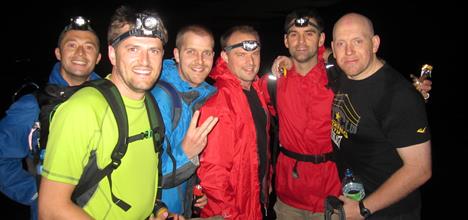 Staff from Red Twin are taking part in a sponsored challenge to raise money for Cancer Research UK. The challenge is known as the National 3 Peaks Challenge, which is to climb the highest mountains of the United Kingdom within a 24 hour period. The challenge involves climbing over 11000 ft and walking over 26 miles while scaling the summits of Ben Nevis, Scafell Pike and Snowdon.
Our director Ian Matthews is taking part with a select team starting on Saturday 18th August 2012. When asked Ian said "This one is going to hurt but it is for a very worthy cause and I'm glad to be able to do my bit"
The team are collecting sponsorship via on-line donations. Please help this fantastic cause if you canwww.justgiving.com/ianmatthews06010
2011 - Southmead Hospital Redevelopment Project (SHRP) Golf Day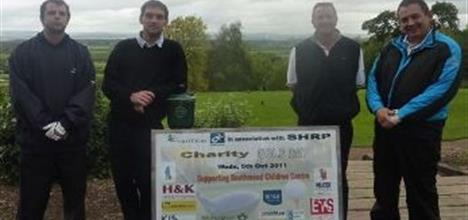 Red Twin has joined Carillion and their team from the Southmead Hospital redevelopment project on their charity golf day at The Bristol golf club, St Swithins Park. The weather played a large part but didn't stop a great day and lots of money being raised for a good cause. This year Carillion chose the Southmead Day Nursey Amenity Fund who help disadvantaged children.
"We are pleased to be able to help people less fortunate than ourselves" said Ian Matthews, Director at RedTwin, "and well done to the guys at Carillion for making it happen".
2010 - Bradley Stoke 10k
We are pleased to announce that our Director Ian, will be taking part in the Bradley Stoke 10k run on Sunday 13th June 2010 and raising money for the Nicola Corry Support Foundation who help families cope with cancer. If you would like to sponsor Ian please contact the office.